Kevin Fox, Pop/Rock Pianist in Santa Barbara, California Serving Southern California and the Central Coast.
(805) 689-3970
---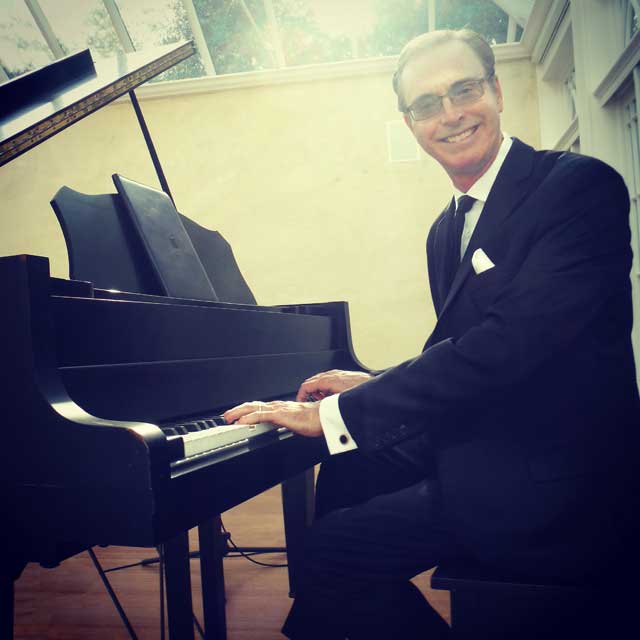 Pianist Kevin Fox provides fun and engaging entertainment with a mix of instrumental piano covers of many of your favorite songs in the pop/rock genre - from some of today's contemporary pop hits and going back to past decades. Kevin plays the best popular rock songs, pop ballads and R&B hits from the 1960s, 1970s, 1980s, 1990s, 2000s and 2010s. Whether you're looking for upbeat or ambient music, modern or classic, Kevin can deliver with the ease, elegance and skill you can only get from a professional musician with decades of experience. Kevin welcomes requests from you and your guests and invites you to try an "stump" him. Kevin performs for all types of events in Santa Barbara, Ventura, Los Angeles and San Luis Obispo Counties.
---
Contemporary Popular Songs
Kevin plays piano renditions of many of the most memorable contemporary pop songs from recent years - songs that will no doubt be among the classics of tomorrow, such as hits from: Bruno Mars, Beyoncé, Coldplay, John Legend, Ed Sheeran, Jason Mraz, Train, Michael Bublé, Norah Jones, Josh Groban, Adele, Taylor Swift and others.
'60s, '70s, '80s and '90s Nostalgia!
Individual musical tastes vary from person to person, but one thing remains constant: people love the music they grew up with. Kevin plays many of the pop hits and classic rock of the 1960s, 1970s, 1980s and 1990s - classics that people of all ages will recognize and enjoy.
Recent Feedback
"Thank You so much for playing at our event! It was exactly what we were looking for, and it sounded beautiful. You were very professional, a perfect fit for our party."
- Megan
"I want to express our gratitude and appreciation for your wonderful performance on Friday night! We are continuing to receive wonderful feedback from everyone, family, guests and staff included! You have an incredible talent and we are all impressed with your skill, demeanor, professionalism and your ability to read a crowd and play accordingly."
- Jessica
---
Pop / Rock Sample Song Lists:
Hits of the 2010s to Present
All Of Me (John Legend)
A Thousand Years (Christina Perri)
Boom Clap (Charli XCX)
Count On Me (Bruno Mars)
Despacito (Luis Fonsi)
Get Lucky (Daft Punk)
Glitter In The Air (Pink)
Home (Edward Sharpe)
I Choose You (Sara Bareilles)
Just The Way You Are (Bruno Mars)
Let Her Go (Passenger)
Love On Top (Beyoncé)
Marry Me (Train)
Marry You (Bruno Mars)
Mine (Taylor Swift)
Paradise (Coldplay)
Perfect (Ed Sheeran)
Roar (Katy Perry)
Turning Page (Sleeping At Last)
When I Was Your Man (Bruno Mars)
Hits of the 2000s
A Day Without Rain (Enya)
A New Day Has Come (Celene Dion)
A Thousand Miles (Vanessa Carlton)
Beautiful (Christina Aguilera)
Bleeding Love (Leona Lewis)
Calling All Angels (Train)
Chasing Pavements (Adele)
Clocks (Coldplay)
Come Away With Me (Norah Jones)
Don't Know Why (Norah Jones)
Drops Of Jupiter (Train)
Everything (Michael Bublé)
Falling Slowly (Hansard / Irglova)
Fly (Sarah Groves)
Green Eyes (Coldplay)
Halo (Beyoncé)
Hey There Delilah (Plain White T's)
Lost In This Moment (Big & Rich)
Love Story (Taylor Swift)
Lucky (Jason Mraz)
Only Time (Eyna)
Scientist, The (Coldplay)
Use Somebody (Kings Of Leon)
Viva La Vida (Coldplay)
Way I Am, The (Ingrid Michaelson)
White Flag (Dido)
Yellow (Coldplay)
You Raise Me Up (Josh Groban)
Hits of the 1990s
Amazed (Lonestar)
Beautiful Stranger (Madonna)
Because You Loved Me (Celine Dion)
Bless The Broken Road (Rascal Flatts)
Breathe (Faith Hill)
Caribbean Blue (Enya)
Don't Look Back In Anger (Oasis)
Fields Of Gold (Sting)
Have You Ever Really Loved a Woman? (Bryan Adams)
Hero (Mariah Carey)
It's Your Love (Tim McGraw / Faith Hill)
Kiss Of Life (Sade)
My Heart Will Go On (Celine Dion)
November Rain (Guns and Roses)
Save The Best For Last (Vanessa Williams)
Something About The Way You Look Tonight (Elton John)
Sweetest Days, The (Vanessa Williams)
Time To Say Goodbye (Brightman / Bocelli)
That's The Way It Is (Celine Dion)
To Make You Feel My Love (Garth Brooks)
Hits of the 1980s
Africa (Toto)
Against All Odds (Phil Collins)
Always (Atlantic Starr)
Always On My Mind (Willie Nelson)
Best That You Can Do (Arthur's Theme)
Caught Up In The Rapture (Anita Baker)
Crazy For You (Madonna)
Endless Love (Lionel Ritchie)
Ev'ry Little Thing She Does Is Magic (Police)
Forever Young (Rod Stewart)
Greatest Love Of All (Whitney Houston)
Gypsy (Fleetwood Mac)
Hallelujah (Jeff Buckley)
Have I Told You Lately (Van Morrison)
Head Over Heels (Tears For Fears)
Hello (Lionel Richie)
Home Sweet Home (Mötley Crüe)
I Can't Tell You Why (The Eagles)
I Just Called To Say I Love You (Stevie Wonder)
Keep On Loving You (Reo Speedwagon)
Lady In Red (Chris DeBurgh)
Leave A Tender Moment Alone (Billy Joel)
Lost In Love (Air Supply)
Open Arms (Journey)
Overjoyed (Stevie Wonder)
Sailing (Christopher Cross)
Saving All My Love For You (Whitney Houston)
St. Elmo's Fire (Movie Theme)
Suddenly (Billy Ocean)
Sweet Love (Anita Baker)
Take My Breath Away (Berlin)
That's What Friends Are For (Dionne Warwick)
Time After Time (Cyndi Lauper)
True (Spandau Ballet)
Uptown Girl (Billy Joel)
Up Where We Belong (1980s hit)
Waiting For A Girl Like You (Foreigner)
Wind Beneath My Wings, The (Bette Midler)
You Belong To The City (Glenn Frey)
Hits of the 1970s
Air That I Breathe, The (The Hollies)
American Pie (Don McLean)
Baby I'm-A Want You (Bread)
Black Magic Woman (Santana)
Blue Bayou (Linda Ronstadt)
Bridge Over Troubled Water (Simon & Garfunkel)
Candida (Dawn)
Candle In The Wind (Elton John)
Come In From The Rain (Melissa Manchester)
Colour My World (Chicago)
Come Sail Away (Styx)
Crazy Little Thing Called Love (Queen)
Crazy Love (Van Morrison)
Desperado (The Eagles)
Do It Again (Steely Dan)
Dreams (Fleetwood Mac)
Fernando (ABBA)
Fire and Rain (James Taylor)
First Time Ever I Saw Your Face (Roberta Flack)
For All We Know (The Carpenters)
Goodbye Yellow Brick Road (Elton John)
Got To Be There (Michael Jackson)
Have You Ever Seen The Rain? (Creedence)
Heart Of Gold (Neil Young)
Hotel California (The Eagles)
How Deep Is Your Love (The Bee Gees)
How Sweet It Is (James Taylor)
I Can See Clearly Now (Jonny Nash)
If (Bread)
If You Could Read My Mind (Gordon Lightfoot)
Imagine (John Lennon)
Isn't She Lovely (Stevie Wonder)
Just A Song Before I Go (Crosby, Stills and Nash)
Just The Two Of Us (Bill Withers)
Just The Way You Are (Billy Joel)
Knock Three Times (Dawn)
Landslide (Fleetwood Mac)
Lean On Me (Bill Withers)
Let It Be (The Beatles)
Let's Stay Together (Al Green)
Longer (Dan Fogelberg)
Lovely Day (Bill Withers)
Maggie May (Rod Stewart)
Make It With You (Bread)
Margaritaville (Jimmy Buffett)
Moondance (Van Morrison)
My Cherie Amour (Stevie Wonder)
New York State Of Mind (Billy Joel)
Nights In White Satin (Moody Blues)
On And On (Stephen Bishop)
Piano Man (Billy Joel)
Rhiannon (Fleetwood Mac)
Ripple (Grateful Dead)
Rikki Don't Lose That Number (Steely Dan)
Sara Smile (Hall & Oats)
She's Always A Woman (Billy Joel)
Something (The Beatles)
Stairway To Heaven (Led Zeppelin)
Summer Breeze (Seals and Crofts)
Take The Long Way Home (Supertramp)
Time In A Bottle (Jim Croce)
Tiny Dancer (Elton John)
Vincent (Don McLean)
We Are The Champions (Queen)
We've Only Just Begun (The Carpenters)
Wonderful Tonight (Eric Clapton)
Year Of The Cat (Al Stewart)
Yesterday Once More (The Carpenters)
You Are The Sunshine Of My Life (Stevie Wonder)
Your Song (Elton John)
You've Got A Friend (Carole King)
Hits of the 1960s
And I Love Her (The Beatles)
Blackbird (The Beatles)
Blowin' In The Wind (Bob Dylan)
Brown Eyed Girl (Van Morrison)
Can't Help Falling In Love (Elvis Presley)
Dock Of The Bay, The (Otis Redding)
Don't Worry Baby (The Beach Boys)
Do You Know The Way To San Jose? (D. Warwick)
Downtown (Petula Clarke)
Fool On The Hill (The Beatles)
From Me To You (The Beatles)
Happy Together (The Turtles)
Here Comes The Sun (The Beatles)
Here There And Everywhere (The Beatles)
Hey Jude (The Beatles)
How Can I Be Sure? (The Young Rascals)
If I Fell (The Beatles)
In My Life (The Beatles)
I Only Want To Be With You (Dusty Springfield)
In My Life (The Beatles)
I Want To Hold Your Hand (The Beatles)
Leaving On A Jet Plane (John Denver)
Let It Be (The Beatles)
Look Of Love, The (Dusty Springfield)
Love Potion Number 9 (The Clovers)
Michelle (The Beatles)
My Cherie Amour (Stevie Wonder)
Norwegian Wood (The Beatles)
Our Day Will Come (Ruby & The Romantics)
Penny Lane (The Beatles)
Ruby Tuesday (The Rolling Stones)
Save The Last Dance For Me (The Drifters)
Something (The Beatles)
Sound Of Silence (Simon & Garfunkel)
Strawberry Fields Forever (The Beatles)
Sunny (Bobby Hebb)
Sweet Caroline (Neil Diamond)
There's A Kind Of Hush (Herman's Hermits)
Unchained Melody (Righteous Brothers)
Up On The Roof (The Drifters)
Up, Up And Away (The 5th Dimension)
Walk On By (Dionne Warwick)
Wichita Lineman (Glen Campbell)
With A Little Help From My Friends (The Beatles)
Yellow Submarine (The Beatles)