Kevin Fox, New York Style Cocktail Pianist Serving Southern California and the Central Coast.
(805) 689-3970
---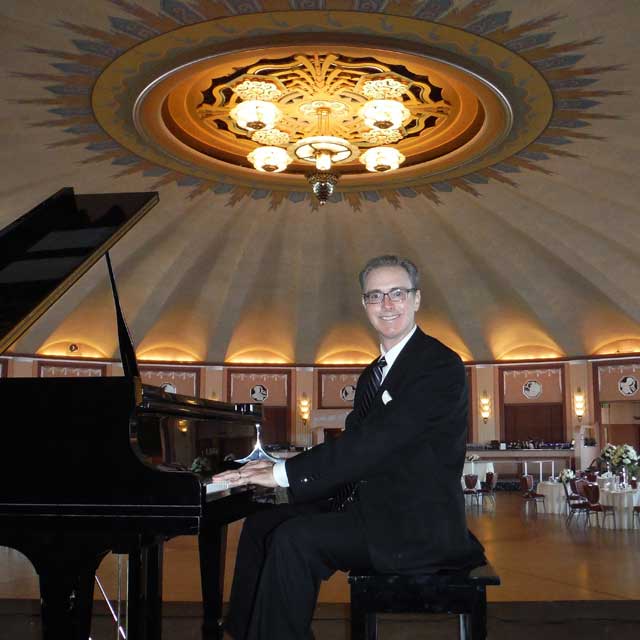 If you enjoy classic New York style cocktail piano jazz, have longtime Manhattan pianist Kevin Fox bring elegance and sophistication to your event with his renditions of the great American standards of the twentieth century. For 20 years, Kevin performed at many of New York City's finest hotels, private clubs and restaurants - playing the timeless and enduring songs of "The Great American Songbook" and jazz standards of the 1950s and 1960s. Now based in Southern California since 2009, Kevin continues to capture the glamour and romance of "Old Hollywood" playing classic cocktail piano for parties, events and at fine hotels, restaurants and clubs in Southern California and the Central Coast. Kevin performs for events in Montecito, Beverly Hills, on Catalina Island and throughout Santa Barbara, Los Angeles, Ventura and San Luis Obispo Counties.
---
Kevin Fox Plays The Great American Songbook.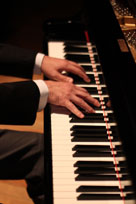 What is the Great American Songbook? This refers to the most memorable American popular songs that were originally published during the time period considered to be "The Golden Age" of popular songwriting - from the early 1900s until about 1950. Many of these songs were written for Broadway musicals and Hollywood films during the 1920s, 1930s and 1940s. These are songs that have withstood the test of time and have become an everlasting part of our popular culture. For example, people of all ages are likely to recognize such classics as, "It Had To Be You", "Over The Rainbow" and "As Time Goes By". Pianist Kevin Fox plays all the classic songs from "The Great American Songbook" - including the music of Irving Berlin, George Gershwin, Jerome Kern, Cole Porter and others.
---
Kevin Fox Plays Classic Cocktail Music of the 1950s and 1960s.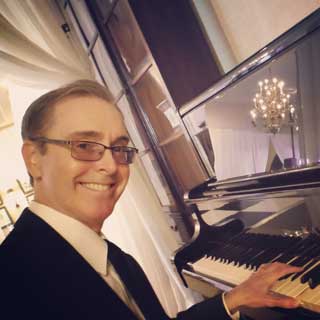 There are many classic popular songs from the 1950s and 1960s that were originally written for motion pictures and Broadway musicals and have become standards in the cocktail jazz piano repertoire - and Kevin plays them all. This includes songs written by Henry Mancini, Antonio Carlos Jobim, Jimmy Van Heusen, Johnny Mandel and others. This also includes songs that were popularized by vocalists, such as Frank Sinatra, Nat "King" Cole, Tony Bennett and Dean Martin. Many of these songs are familiar to everyone - such as "Unforgettable", "The Girl From Ipanema" and "Fly Me To The Moon".
"Kevin was great from start to finish! I needed someone who could come in and play that perfect jazz piano background music for our cocktail/birthday party. He pulled that off with ease and by the end of the evening, people had gathered around the piano making requests to sing along to. Things were going so well that I further enlisted his services beyond the originally agreed to time-frame and he was very accommodating. As a piano player of 30+ years myself, I can vouch for his skills to entertain. I'd definitely hire him back again should the opportunity present itself. Thanks, Kevin!"
-Marc
"Kevin Fox is in my experience, one of the most talented, and experienced pianists I have ever had the pleasure of working with. We hired him for semi-regular playing at the hotel that I manage and everyone was absolutely in love with him. His ability and talent for music is amazing. He would often accompany me while singing in the hotel lobby with no prior experience with music that I would give him. His sight reading is impeccable and his ability to follow a singer, is excellent. Not to mention he dresses very sharply for the part, and couldn't be more of a pleasure to be around. He has an extensive library of songs he knows, and has never failed to take a request. If you are looking for someone to bring a ton of class, elegance and talent to your get together, look no further than Kevin Fox. We were extremely lucky to have such a talented musician play for us! He will absolutely liven up your occasion!"
-Kenneth
---
Cocktail Piano Sample Song Lists:
The Great American Songbook
Ain't Misbehavin'
All Of Me
All The Things You Are
Alone Together
Always
Angel Eyes
April In Paris
As Time Goes By
Autumn In New York
Begin The Beguine
Bewitched
Blue Moon
Blue Skies
Blues In The Night
Body And Soul
But Not For Me
Cheek To Cheek
Chicago
Cocktails For Two
Come Rain Or Come Shine
Dancing In The Dark
Dancing On The Ceiling
Darn That Dream
Deep Purple
Don't Get Around Much Anymore
Dream
Dream A Little Dream Of Me
Embraceable You
Everything Happens To Me
Everything I Have Is Yours
Fascinating Rhythm
Foggy Day, A
For All We Know
Get Out Of Town
Ghost Of A Chance, A
Have You Met Miss Jones?
Honeysuckle Rose
How Long Has This Been Going On?
I Can't Get Started With You
I Concentrate On You
I Could Write A Book
I Cover The Waterfront
I Don't Want To Set The World On Fire
I Had The Craziest Dream
I Only Have Eyes For You
I Remember You
I Thought About You
I'll Be Seeing You
I'm Getting Sentimental Over You
I'm Glad There Is You
I'm In The Mood For Love
I'm Old Fashioned
I'm Through With Love
Imagination
In A Sentimental Mood
Isn't It Romantic?
It Could Happen To You
It Had To Be You
It's Only A Paper Moon
I've Got A Crush On You
I've Got The World On A String
I've Got You Under My Skin
Lady Is A Tramp, The
Laura
Lazy River
Let's Call The Whole Thing Off
Let's Face The Music And Dance
Love For Sale
Love Is Here To Stay
Love Walked In
Lullaby Of Broadway
Lullaby Of The Leaves
Lush Life
Makin' Whoopee
Manhattan
Memories Of You
Midnight Sun
Moon Over Miami
Moonglow
Moonlight In Vermont
More Than You Know
My Funny Valentine
My Heart Stood Still
My Ideal
My Old Flame
My Romance
My Ship
My Silent Love
Nearness Of You, The
Nice Work If You Can Get It
Night And Day
Oh, Lady Be Good!
On Green Dolphin Street
On The Sunny Side Of The Street
Once In A While
One For My Baby
Out Of Nowhere
Over The Rainbow
Pennies From Heaven
Polkadots And Moonbeams
Prelude To A Kiss
Prisoner Of Love
September In The Rain
September Song
Serenade In Blue
She's Funny That Way
Skylark
Smoke Gets In Your Eyes
Softly As A Morning Sunrise
Somebody Loves Me
Someone To Watch Over Me
Song Is You, The
Sophisticated Lady
Speak Low
Spring Is Here
Stardust
Stars Fell On Alabama
Stella By Starlight
Stormy Weather
Summertime
Sweet And Lovely
'S Wonderful
Tangerine
Tea For Two
Temptation
Tenderly
There Is No Greater Love
There Will Never Be Another You
These Foolish Things
They All Laughed
They Can't Take That Away
Things We Did Last Summer, The
This Can't Be Love
Thou Swell
Until The Real Thing Comes Along
Very Thought Of You, The
Way You Look Tonight, The
What Is This Thing Called Love
What's New?
Where Or When
Willow Weep For Me
With A Song In My Heart
Yesterdays
You And The Night And The Music
You Are Too Beautiful
You Go To My Head
You Stepped Out Of A Dream
You'll Never Know
Cocktail Piano Standards Of The 1950s
All Of You
All The Way
An Affair To Remember
Around The World
Arrivederci, Roma
A Sleepin' Bee
Autumn In Rome
Autumn Leaves
Because Of You
Because You're Mine
Best Is Yet To Come, The
Beyond The Sea
Blossom Fell, A
Blue Gardenia
Born To Be Blue
Canadian Sunset
C'est Manifique
Chances Are
Chega De Saudade
Come Fly With Me
Cry Me A River
Day In The Life Of A Fool, A
Ebb Tide
Getting To Know You
Here's That Rainy Day
Hey There
I Could Have Danced All Night
I Get Ideas
I Have Dreamed
I Love Paris
I Wish You Love
I'm A Fool To want You
If I Give My Heart To You
If I Were A Bell
Invitation
It's All In The Game
I've Grown Accustomed To Her Face
Just In Time
Kiss To Build A Dream On, A
Lazy Afternoon
Learnin' The Blues
Love Is A Many Splendored Thing
Lullaby Of Birdland
Misty
My Foolish Heart
My Favorite Things
My One And Only Love
Never Let Me Go
Never Never Land
Nevertheless
No Moon At All
Old Cape Cod
Only You
On The Street Where You Live
Party's Over, The
Picnic
Que Sera Sera
Rags To Riches
Satin Doll
Secret Love
Smile
Something's Gotta Give
Somewhere
Somewhere Along The Way
Song From Moulin Rouge
Spring Can Really Hang You Up The Most
Stranger In Paradise
Sway
Take Five
Teach Me Tonight
Tender Trap, The
That's All
That's Amore
Three Coins In The Fountain
Till
Till There Was You
Too Close For Comfort
Too Late Now
True Love
Unforgettable
Under Paris Skies
Volare
Weaver Of Dreams, A
When I Fall In Love
When Sunny Gets Blue
Witchcraft
You Make Me Feel So Young
Young and Foolish
Young At Heart
Cocktail Piano Standards Of The 1960s
A Time For Love
Alfie
Apartment, The
Call Me Irresponsible
Charade
Corcovado
Days Of Wine And Roses
Desafinado
Dindi
Emily
Everybody Loves Somebody
Girl From Ipanema, The
Good Life, The
Hello Dolly
How Insensitive
I Left My Heart In San Francisco
I Will Wait For You
If Ever I Would Leave You
I Wanna Be Around
Last Dance, The
Look Of Love, The
L-O-V-E
Love Letters
Make Someone Happy
Meditation
Moon River
More
My Way
Nice 'N' Easy
O Grande Amor
On A Clear Day
Once I Loved
Once Upon A Time
One Note Samba
People
Put On A Happy Face
Second Time Around, The
Shadow Of Your Smile, The
Somewhere My Love
Soon It's Gonna Rain
Spanish Eyes
Strangers In The Night
Summer Samba
Summer Wind, The
Triste
Try To Remember
Two For The Road
Watch What Happens
Wave
What Are You Doing The Rest Of Your Life?
What A Wonderful World
What Kind Of Fool Am I?
Where Is Love?
Who Can I Turn To
Windmills Of Your Mind, The
Yellow Days
You're Nobody Till Somebody Loves You