Kevin Fox, Pianist For Memorial Services and Funerals Serving Southern California and the Central Coast.
(805) 689-3970
---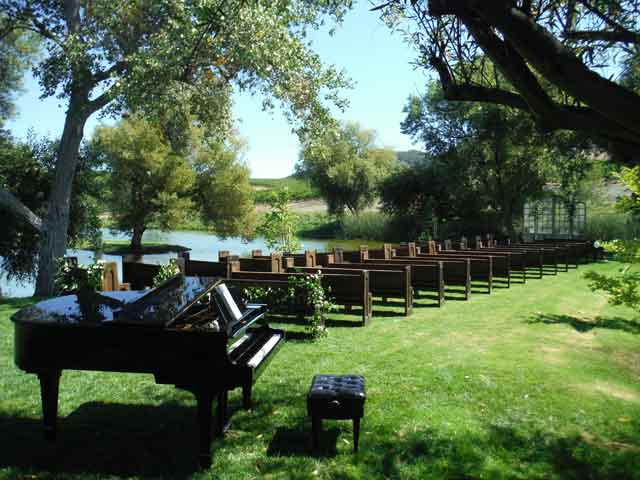 As an experienced professional, my goals are to provide beautiful piano music to honor the life of your loved one while ensuring that the planning is as easy and stress-free as possible. At your request I will consult with you (or, if you prefer, with the officiant or funeral director) to coordinate a musical program specifically for your service. During this consultation we can select music from your loved one's favorite pieces, popular music from significant times in your loved one's life, and more traditional memorial music. I provide musical programs for all types of services, including memorial services, funerals and celebration of life events. I perform at all types of venues, including houses of worship, funeral homes, memorial park and public or private venues. If there is no piano at the location of the service, I can provide an 88-key electronic piano and amplification or arrange for the rental of a grand piano. I also can provide a battery-operated keyboard if you wish to have your service at an outdoor location where there is no power source. I am based in Santa Barbara, California and I serve all of Santa Barbara, Los Angeles, Ventura and San Luis Obispo Counties.
---
Celebration of Life Events
Uplifting piano music can set the tone for a wonderful Celebration of Life event. I offer personalized music playlists on request that can include your loved one's favorite songs and music. For example, in the past I've helped my clients compile individualized programs consisting of the music that was popular when their loved one was growing up; these are the songs that often remain favorites for the rest of our lives. After playing for many Celebration of Life events, I know there can be a lot of spontaneity; guests may come up to speak intermittently, they may request songs during the event and there may even be guests who would like to sing. I'm happy to accommodate any direction your event takes.

"Kevin was reliable, professional, talented, gracious, and very gregarious!! He was easy to contact. The date we set on was established quickly. His cost is more than reasonable for the quality of entertainment he provides. As promised he sent his contract immediately with all of his information in writing. He played EVERY song we could imagine (both set out ahead of time and on the spot). He played for my mother's remembrance celebration, and he made it a really fun party which is exactly as Mom wanted. He went so far as to provide sing along music. Kevin is easy to work with and extremely talented!!"
- Sarah
---
Sample Song List for Memorials and Funerals:
Abide With Me
Air On The G String
Amazing Grace
Ave Maria
Be Not Afraid
Be Still, My Soul
Be Thou My Vision
Blessed Assurance
Candle In The Wind
Child Of The King, A
City Of God
Clair De Lune
Come Ye, Disconsolate
Con Te Partirò
Fields Of Gold
For All The Saints
For The Beauty Of The Earth
God Leads Us Along
God Will Take Of You
Great Is Thy Faithfulness
Guide Me, O Thou Great Jehovah
Hero
He Understands, He'll Say "Well Done"
How Great Thou Art
I Heard The Voice Of Jesus Say
I Know That My Redeemer Lives
I Need Thee Every Hour
I Want To Walk As A Child Of The Light
I'll Be Seeing You
In The Garden
In The Sweet By And By
It Is Well With My Soul
Jesus Is The Sweetest Name I Know
Jesus Remember Me
Just A Closer Walk With Thee
Largo From New World Symphony
Leaning On The Everlasting Arms
Morning Has Broken
My Way
Near To The Heart Of God
Nearer My God To Thee
Nimrod
O God Our Help In Ages Past
Only A Shadow
Only Time
Over The Rainbow
(There'll Be) Peace In The Valley For Me
Rainbow Connection
Rest In Peace (A Song Of Farewell)
Rock Of Ages
Safe In The Arms Of Jesus
Shepherd Of My Heart
Softly And Tenderly
Take My Hand, Precious Lord
Tis So Sweet To Trust In Jesus
Unforgettable
What Wondrous Love Is This
When The Saints Go Marching In
Wind Beneath My Wings
Wonderful Peace